Whether you have a unique branding promotion scheduled or if it's simply time to rethink display design, we have the answer for you. Our Point of Purchase (POP) brochure holders, cardboard display stands or retail countertop displays are practical tools to engage retail customers.
The idea of a retail countertop or brochure holder isn't just to show your product. It should reflect your brand's vision and entice customers to join your journey. Start by differentiating your countertop display by choosing the style that reflects your brand and effectively working with products, brochures or posters. For example, if your brand is sustainable and eco-friendly, you'll be delighted to know that all the cardboard packaging we source at Pakko are FSC (Forest Stewardship Council) approved. Together our team can help you to create a cardboard display stand that supports your sustainability vision.
For one-off special holiday promotions like Mother's Day (Sunday, May 8th), our team will work with you to offer design, colour, print and production options that reflect your brand and appeal to the heart of your promotional audience. When you're thinking about how to approach the design of your counter display, consider what will appeal to your customers – what will make them stop and notice? And what will work for you going forward?
How will your design colours, font, logo and styling captivate your customer? A few things to consider:
1. Customising Your Countertop Display
Whether you need a brochure holder or something more significant to display a product, our team at Pakko can design, create and manufacture it on time and budget from the convenience of our manufacturing plant in Geebung, Queensland. We are Australian owned, and our team have years of experience creating cardboard packaging for successful retail brands. Our team's expertise allows us to come up with innovative & creative ideas for you to get the most out of your display stands.
Detachable tops can allow you to swap out printed designs to run promotions without needing new packaging.
Branded Printing
Quality Design and Materials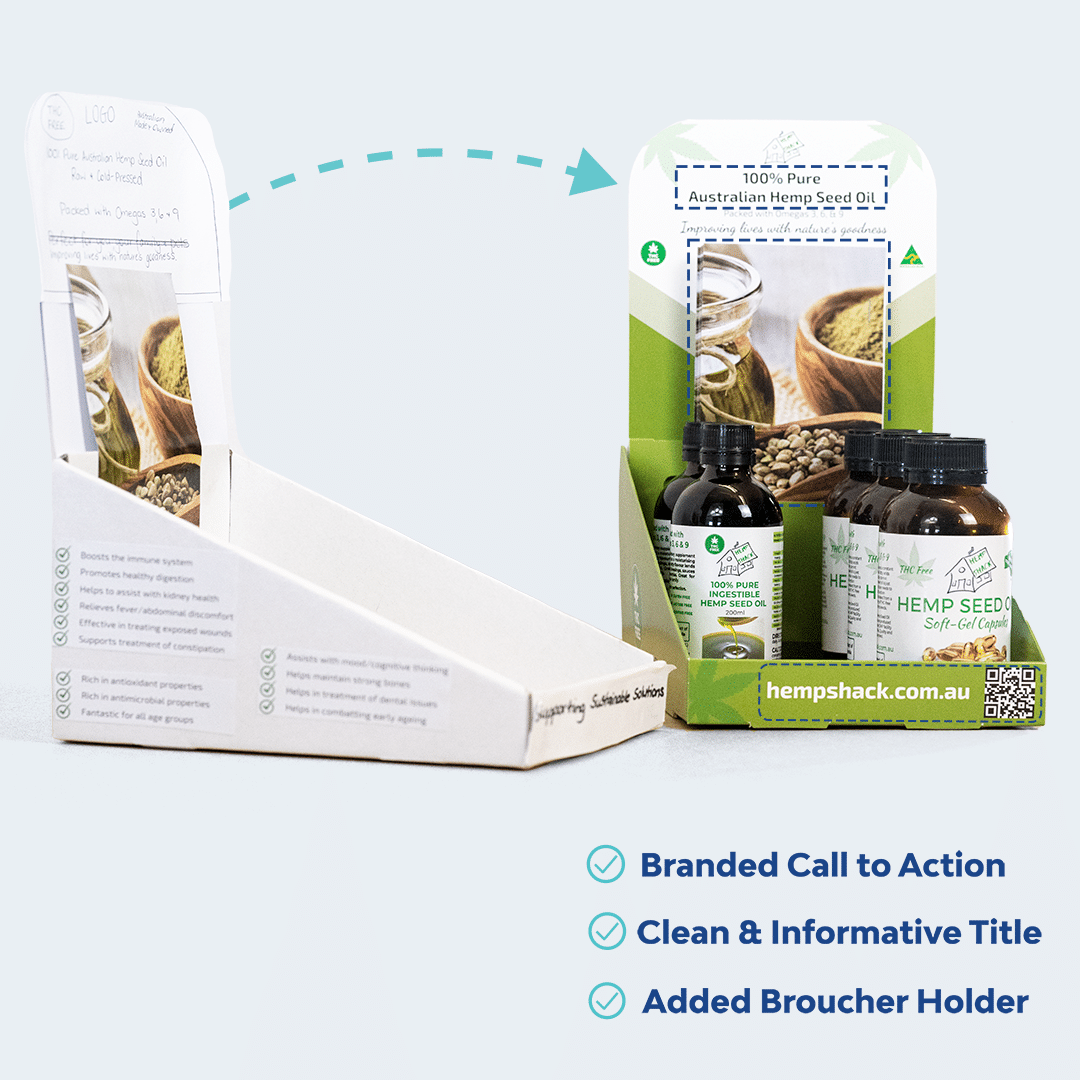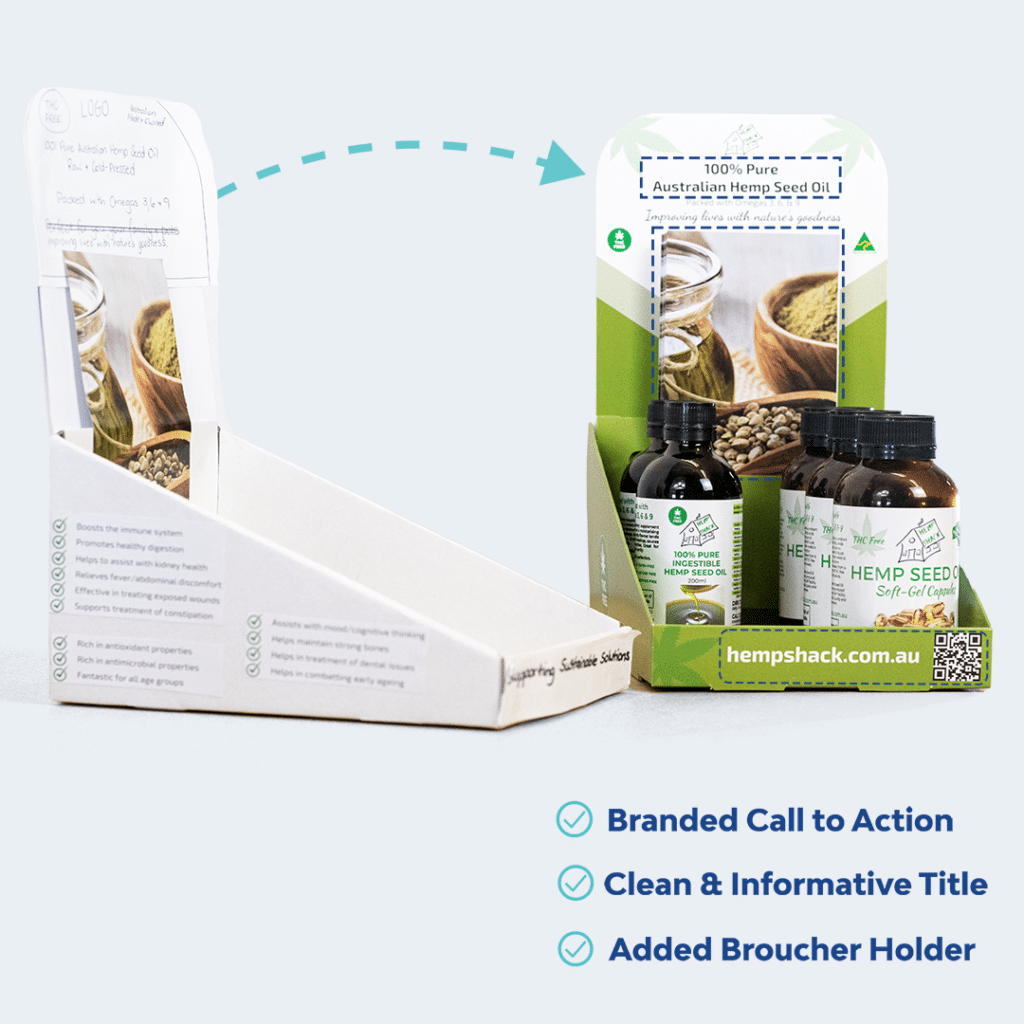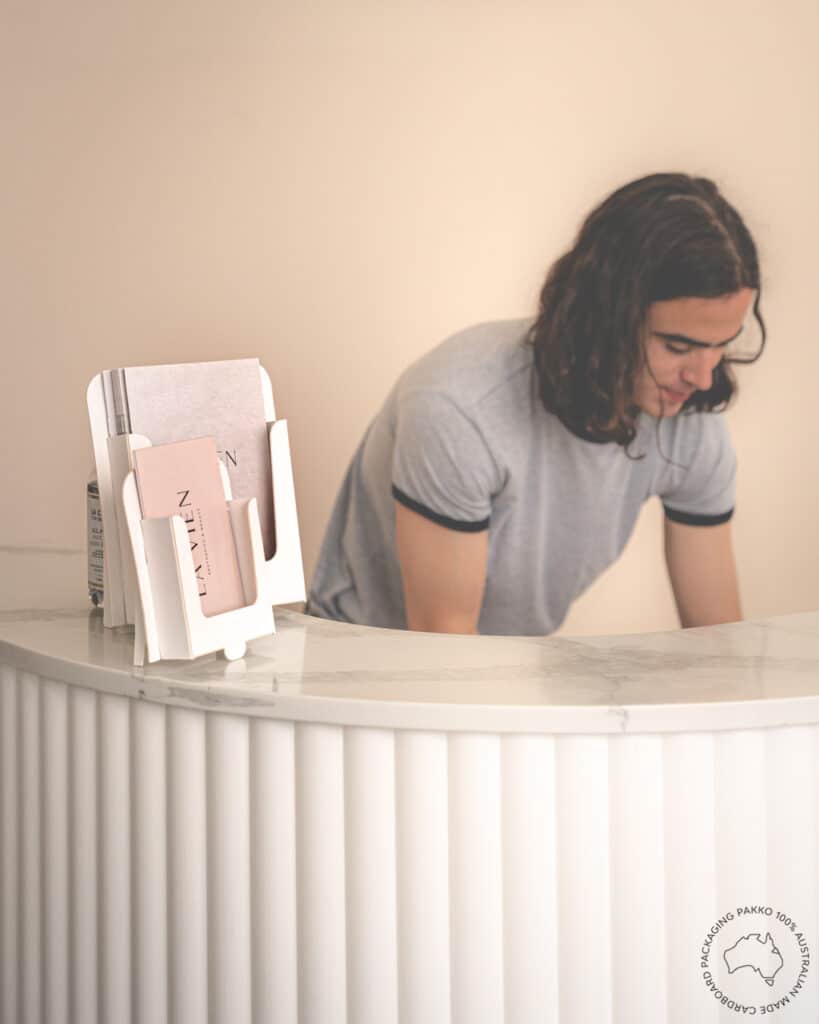 2. What's the Best Display Stand for me?
We know that making brand decisions can get confusing. Do you use the same Point of Purchase style your company has successfully used for years? Or do you explore new techniques and styles? Our team create counter displays every day, and our insight can help you create a brochure or cardboard product display that will boost your brand, product and promotional awareness.
3. Quality Materials & Easy Assembly
Let us help your POP display or brochure holder pop louder than the rest! From a practical point of view, we can advise on the suitable materials and the weight of the cardboard for your displayer as well as the most cost-effective print methods. Our friendly, inspired team of creatives understand the customer retail pathway, and we're here to help every step of the way.
Display Packaging Made With You In Mind
We've been helping Australian brands create Australian Made display packaging in Queensland since 2017. Our team has extensive experience collaborating with highly recognised, successful household brand names.
We believe that the way you choose to differentiate your brand and your product will make all the difference to your brand experience, customer engagement and social media shareability.
We have a standard point of purchase display holders and stands that can get you started and not overshadow a brochure or product that already pops!
Talk to our team at Pakko today and let us help you create a point of purchase display holder that allows your brand and products to really pop!
Sale!

Unit Price: $29

Buy 1 to 2: $29.00 per bundle

Buy 3 to 5: $28.00 per bundle

Buy 6 to 9: $27.00 per bundle

Buy 10 to 40: $26.00 per bundle

*All prices are Ex GST

Size (Length x Width x Height): 170 x 240 x 300 mm
Colour: Recycled Grey Inside & Recycled White Outside
Material: Recycled B-Flute
Units Per Bundle: 25
Code: COUNTERDWX
All prices are ex GST

SKU: COUNTERDWX

300mm X 240mm X 170mm

More Info

Counter displays are perfect for showcasing your product on table tops and retail shops. Contact us now for more information!

00mm X 00mm X 00mm

More Info

Unit Price: $28

Buy 1 to 2: $28.00 per bundle

Buy 3 to 5: $27.00 per bundle

Buy 6 to 9: $26.00 per bundle

Buy 10 to 50: $25.00 per bundle

*All prices are Ex GST

Size: 160 x 30 x 210 mm
Material: 1500um Screenboard
Units Per Bundle: 10
Design: Requires simple assembling
Code: A5BROCHURE
All prices are ex GST

SKU: A5BROCHURE

210mm X 30mm X 160mm

More Info