Frequently Asked Questions
All our products are based on bundle prices. When you enter the quantity, please enter the quantity per the number of bundles i.e. if you are wanting to order 500 locking struts, enter the quantity as 5 (5 bundles of 100), not 500.
One of our Team members will aim to respond to you within 24 – 48hrs during business hours. If the quote is urgent, please call our office on (07) 3265 7188.
A keyline is a computer file which represents the outline shape of the required packaging. Click below to see our "keyline guide"
I'm ready to send my design to you, what are your design requirements?
Press ready art requirements are set to ensure a timely and correct output of product which meets your expectations in many aspects such as size and colour. We predominantly use a PDF work-flow and as such would prefer all art to be submitted as a PDF and meeting the following criteria to be of a press ready state.
I am a trade printer, how do I provide printed stock to you?
The following document will detail what our specifications are and what we are able to work when a client is supplying their own printed stock.
Please see the print sheet example below.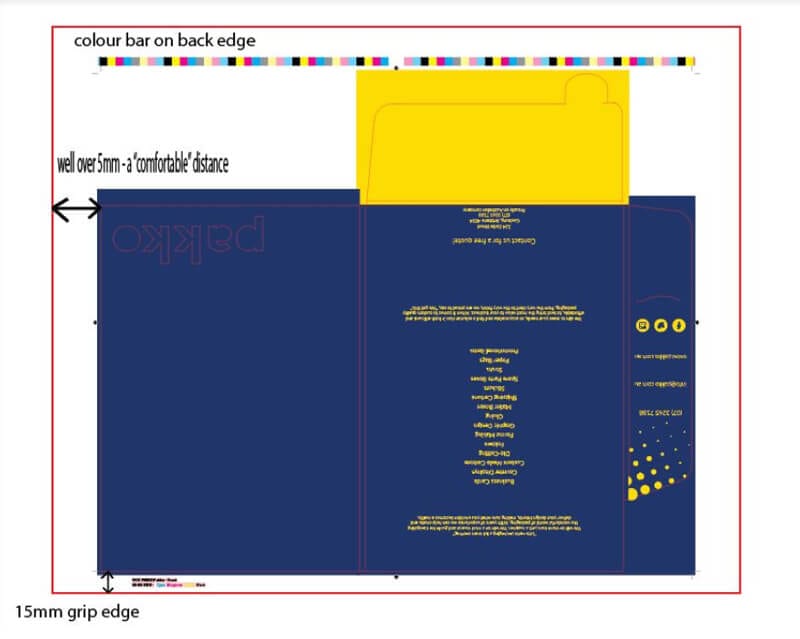 Custom Orders and Materials
Do your stockline items come in other materials and can I get printing done on them? 
All our stockline items come in the one type of material specified on the item. If you would like to get a specific material or printing done, please email sales@pakko.com.au or use the online enquiry form with your request, and we will get back to you with a quotation.
Cutting formes and printing plates
Cutting formes or die cut formes are metal formes used to score and shape paper or cardboard. To create a cutting forme we will use a laser to create the stencil (engrave) and then put in rules.
They can also be known as creasing formes however, they are essentially the same. The strips of the cutting forme are then bent into complicated shapes. Creasing rules, perforating rules and hole punches are also used to produce the cutting formes. This means that in one process a plain sheet can be cut and creased in several places using the cutting forme.
Do you offer express shipping or only Australia Post Regular?
 When your order is placed, we will deliver to you via the best option on the day as we use a variety of carriers to despatch our orders. Our shipping prices are for standard delivery time only.
Can I get a tracking number for the delivery of my order?
 Once the order is despatched, you will receive an email showing who the delivery was sent with, and what the tracking number is and a link to track the progress of your order.
Why can't I see a shipping option when I view the cart?
 To get your shipping cost, please click on "Proceed to checkout" where you can enter your delivery details and the shipping cost will be populated for you.
Can I get a tax invoice for my order?
When you place the order, you will receive an email confirmation with a copy of the tax invoice attached for your records.
At Pakko, we are happy to help