Custom Packaging Australia
Turn the ordinary, into the extraordinary with Pakko and our Custom Packaging Australia. We are your local, affordable and sustainable cardboard packaging company with no minimum order quantity. Supporting Local Business and giving your customers the ultimate unboxing experience.​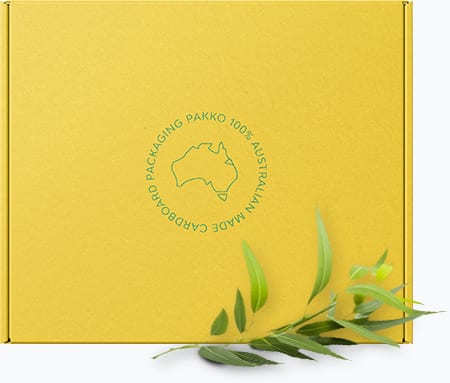 Your Local Custom Made Box Manufacturer
Whether you're a retailer or wholesaler, we've got all of your cardboard packaging needs covered. As one of very few wholly Australian run and made cardboard packaging manufacturers, you can rest assured that we'll only deliver the highest quality products for you. So get your custom packaging Australia from Pakko.
We believe in sustainability. Our material is sourced from environmentally-friendly, socially responsible and economically viable ways.
Australian Packaging Supplier
Buy Australian made from our headquartered in Brisbane. We're run by Australians, for Australians.
100% Biodegradable. Compostable. Durable. Eco-friendly. Create an eco-chic look with our cardboard packaging options.
Australian Made Cardboard Box Solutions For Every Occasion
Having helped hundreds of Australian businesses custom design their packaging and boxes, we can tailor your cardboard packaging needs to fit any size and business requirements you need.
There's A Lot We Can Offer
If it's cardboard - we can make it. Choose from our wide range of standard cardboard packaging solutions or if you're looking for something different, get in touch with us to find out how we could design it.
Custom Printed Boxes & Custom Packaging solutions
We are there to guide you through every step
Get it right from the start by getting your keyline design, also known as your blueprint, accurate and to your liking. This ensures that all perforation lines, cut lines and fold lines are perfect each and every time.
Get creative with our in-house designers to make your packaging dreams come true and provide an unforgettable unboxing experience for your customers. From design to prepress to submitting for manufacturing, we can help bring your packaging vision to life.
We "cookie-cut" your design using our laser cutting technology to stamp out the shape of your cardboard packaging. Once your keyline design has been created, the forme board is cut out with the areas marked for cutting, perforating or creasing.
Our forme makers complete the forme by adding knives and foam to the board before its ready to be used in a die cutting machine. This is where the magic happens as many of our customers have us create, fix or adjust formes to suit their needs.
We use CMYK ink colours to print your design images onto your packaging to keep costs low for you and with no setup fees. Alternatively, you can opt in to use the Pantone's Matching System (PMS) to ensure all colour choices are standardised and reproduced with consistency.
We offer both hand gluing for more intricate designs that require strong integrity or smaller batch runs. Our gluing and folding machines can help deliver you consistent and high-quality finishes. With our control systems, we can guarantee that our products will meet all predetermined criteria without fail.
No Minimum Order Quantity Needed!
We are proud to support local business with our no MOQ for all our packaging products
With strict quality control measures and a customer-driven approach, we deliver peace of mind by guaranteeing that you'll receive only best in your cardboard packaging purchase experience.
Outstanding company. great service....quality packaging and really happy with my interactions. Would definitely use again and highly recommend
Not Too Sure What Box To Get?
Talk to our friendly staff and let us help you find the perfect cardboard packaging solution
We can create boxes to make sure your product is secure and well adjusted to suit your specifications
All quote pricing are clearly identified throughout our process so there are no hidden surprises at the checkout
Simple, straight forward, helpful, cost effective & easy to understand is what we always aim to achieve to obtain the most practical outcome for you
Support is provided on all channels via social, email, phone call or even face to face is available at any stage of your packaging process