PAKKO FINALISTS IN 2 PRESTIGIOUS 2021 PIDA AWARD CATEGORIES
Brisbane based packaging company Pakko announced today that they have been named as finalists for two Awards at the 2021 PIDA (Packaging Industry Design Awards). They will join an esteemed line-up of print and packaging industry professionals from Australia and New Zealand to compete for the prestigious titles of Young Packaging Professional of The Year and Labelling & Decoration Design of the Year.
Pakko CEO and Founder, Nina Nguyen is humbled and delighted to be acknowledged in her first-ever nomination for the 2021 Young Packaging Professional of The Year category. 
"As one of the few females leading the future direction of Australian manufacturing, I am extremely passionate about Australian made and Australian manufacturing.  For me, this nomination is an opportunity to share success and inspire young women to reach for their dreams in any industry they choose." says Ms Nguyen
The purpose of the Young Packaging Professional of the Year category is to provide incentive and recognition to young professionals who are both currently working in and wish to continue their career path within the Packaging industry in Australia or New Zealand.  Other finalists are Azadeh Yousefi AAIP, Industrial Packaging Designer, Production Packaging Innovations, Caitlyn Richards Group Responsible Sourcing Manager, Coles and Jessica Ansell AAIP, Marketing Manager, O F Packaging.
The Pakko team are proud finalists in a second category, Labelling & Decoration Design of the Year, which recognises the addition of content to a pack which creates a unique or innovative appearance, function or communication.  For this, the team designed a unique, reusable P.O.P display for local business The Hemp Shack Co. 
"We are so grateful to be acknowledged for this P.O.P display.  Designed with an interchangeable backing, which allows the back of the display to be changed and used for another product eliminating the need to reproduce the entire display, it provides customer accessibility and is sustainably reusable." says Ms Nguyen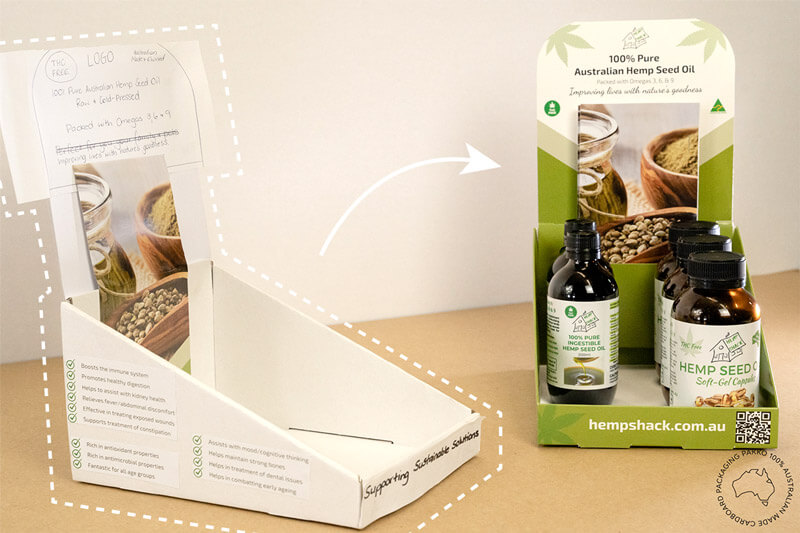 Other finalists in the Labelling & Decoration Design of the Year category are Brookfarm (O F Packaging), De Bortoli Petit Moscato (Cutler Brands), Pana Organic (Zipform Packaging) and UV22 QR Print (Danone SN).
The annual PIDA Awards program is coordinated by the Australian Institute of Packaging and has been designed to recognise both companies and individuals who are making a significant impact in their field across Australia and New Zealand. 
The PIDA awards are the exclusive feeder program for Australia and New Zealand for the prestigious WorldStar Packaging Awards with winners automatically eligible for entry into the 2022 WorldStar Packaging Awards competition.  
The 2021 Australasian Packaging & Innovation & Design (PIDA) Award winners will be formally announced virtually on the 25th and 26th of May.